Heading At A Glance (Click To View More)
OVERVIEW
We are delighted to announce that CLUBSIDE TOURS & TRAVELS PVT. LTD., has been awarded as the BEST DOMESTIC TOUR OPERATOR by FICCI Travel and Tourism Award this year.
Bhutan shuts Darranga as foreign tourist exit point.
·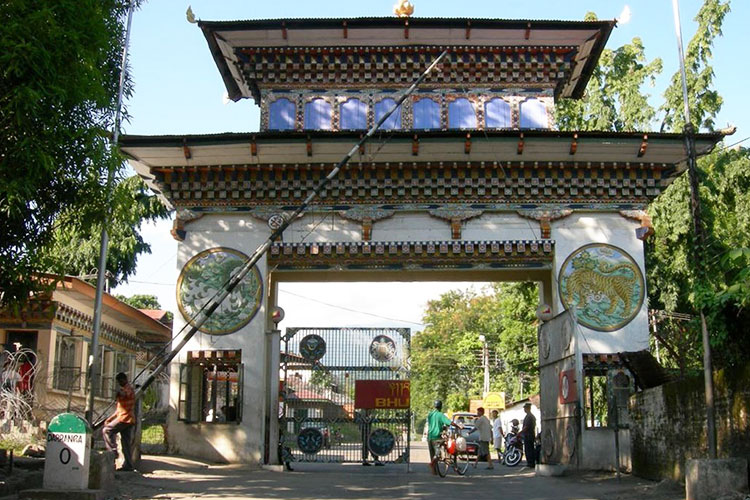 ·       The Bhutan Government has officially decided to restrict visas for foreign nationals who wish to exit through Samdrup Jongkhar (Bhutan) to enter Assam via land check-post at Darranga in Baksa district. It has been anticipated that this development is going to have an adverse impact on the Tourism Industry of the State. Due to this decision taken by Bhutan, Assam is likely to lose out on a large number of high-end foreign tourists who enter the state through this route and travel through Northeast. The matter was highlighted when recently a group of international tourists tried to enter through Darranga but had a tough time to get immigration clearance at Kolkata Airport. A senior State tourism official however mentioned that they are not aware of such development. The route is invariably significant for those who prefer to extend the trip to Manas, Kaziranga and Nameri National Parks for bird watching and other tourist destinations in the State.
Construction of Asian highway 2 completed at Bagdogra

Construction work on the Asian Highway 2 across Bagdogra has been finished which makes the movement of vehicles plying on this stretch quite easy and smooth.
Assam Floods in control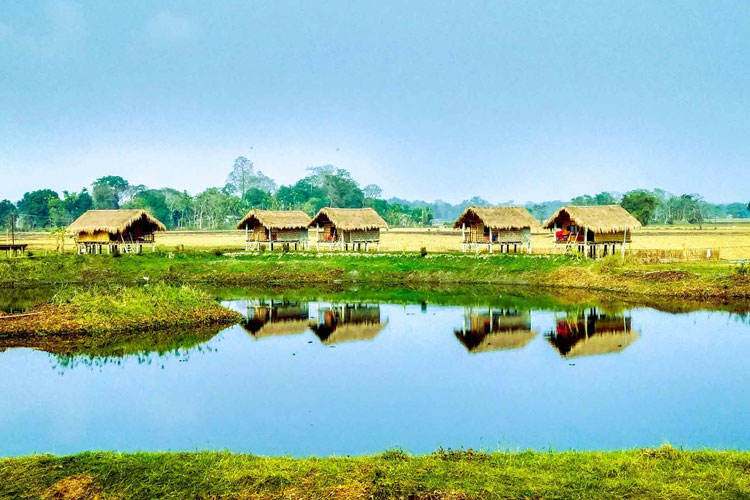 The overall flood situation is Assam has improved drastically. The Assam State Disaster Management Authorities have confirmed that the rivers have receded and is now safe to travel in the region. Flood victims have now returned back to their homes from the relief camps. Brahmaputra River is currently flowing below the danger mark.
No Tiger Hill without Coupons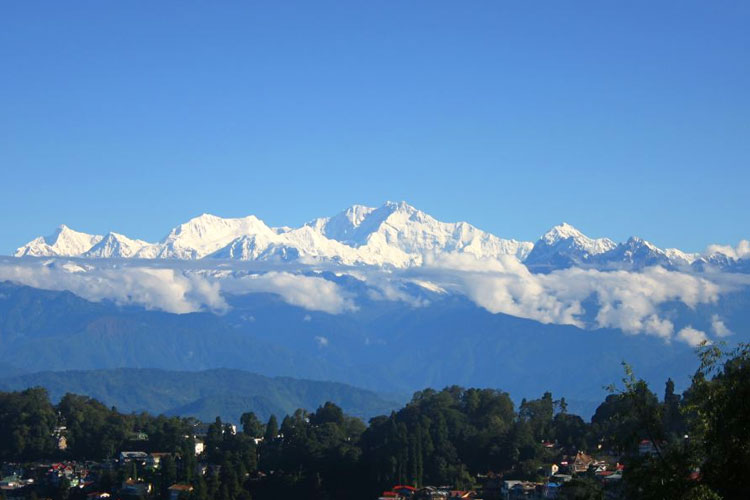 As per the new traffic rules in Darjeeling, the number of vehicles visiting Tiger Hill has been restricted to 300 vehicles but the figure may change as there are talks in process between the authorities and the local tourism and transport associations. The vehicles need to get a coupon from traffic police office a day in advance.With immediate effect, the entry fees for Tiger Hill has increased to Rs. 100 per person for Foreign Nationals and Rs. 50 per person for Indians.
Red Panda Cubs in Darjeeling Zoo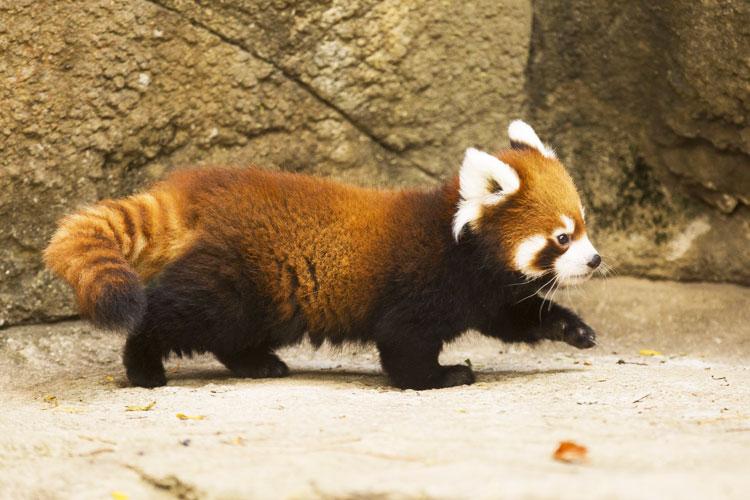 Darjeeling's Padmaja Naidu Himalayan Zoological Park, famous for its conservation and breeding programmes for red panda is proud to declare that they have twenty three red pandas including new cubs. By 2020, the zoo plans to release eight red pandas into the wild.
---
FESTIVE VIBES
Durga Puja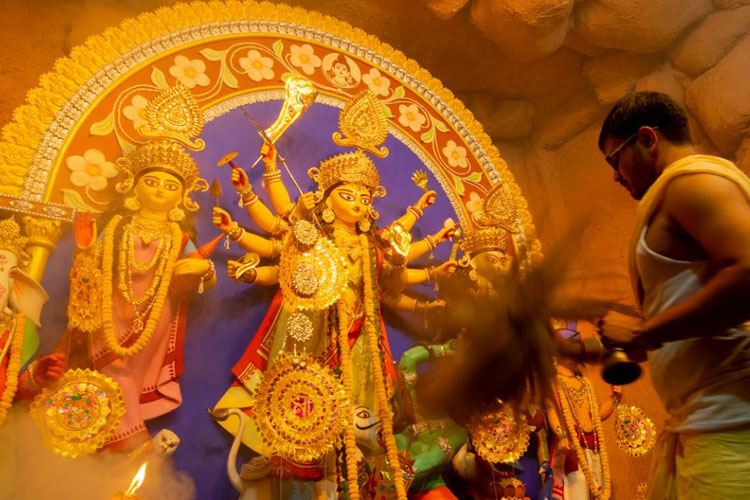 Durga Puja is one of the most significant Hindu festivals of Bengal that celebrates the victory of the iconic Mother Goddess Durga over evil demon Mahishasura who is said to have been blessed with immortality and could not be destroyed by any Man or God. It is Goddess Durga who took several avatars each of the days and finally killed the demon on the tenth day. This spectacular festival honours the female strength or shakti and sees millions of people take to the streets of the City of Joy, Kolkata. One gets to witness statues of intricately crafted Goddess Durga mounted on gorgeously decorated platforms all over the city. People are dressed in their traditional clothes and move around from one pandal to the other praying and feasting. This is one of the most awaited festivals particularly for Bengalis. The eighth day or Maha Ashtami is considered the most auspicious and on the tenth day of the Puja, the beautifully crafted sculptors are paraded through the streets followed by music and dance and ultimately immersed in the river. This year, the festival will be celebrated from 4th October to 8th October 2019. One can capture the essence of the city by visiting some places of interest like The Flower Market, Howrah Bridge, Jain Temple, Kumartuli (Potters' colony), College Street Book Market, Indian Coffee House, South Park Street Cemetery and Mother House.
The Festival of Dashain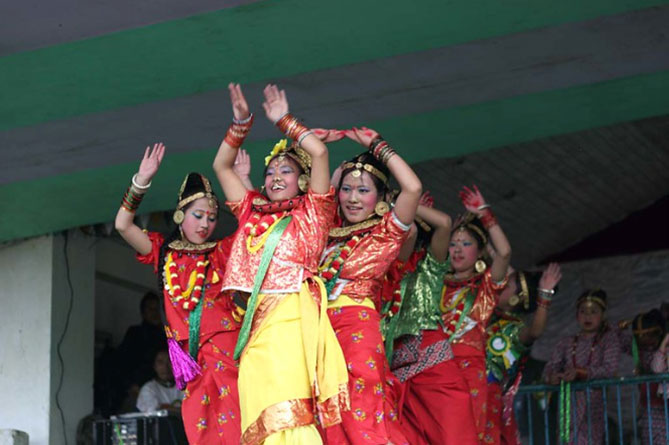 The festival of Dashain celebrated among the Nepali speaking Indian Gorkhas of Darjeeling hills, Sikkim, Assam and the other North Eastern states of India is analogous to Dasherra and Durga Puja. The first nine days of Dashain signifies the battle between the different avatars of Durga and Mahishasura. The demon God is finally killed by Durga on the tenth day. Among the fifteen days on which it is celebrated, the most important days are the first, seventh, eighth, ninth and tenth. On the first day of the puja, seeds are sown in the soil and its growth of a few inches predicts a decent yield. A week later is fulpati or the 'day of flowers' when hundreds of people gather performing folk music and dance and parade through the streets. Followed by Fulpati is Maha Ashtami, Navami and finally the tenth day or Vijay Dashami is the grand finale where in people smear their foreheads with coloured rice and barley sprouts which were sown on the first day are picked and placed over the ears. The fifteenth day or the last day of the festival lies on the full moon day and is also called Kojagrat Purnima.
Ziro Festival of Music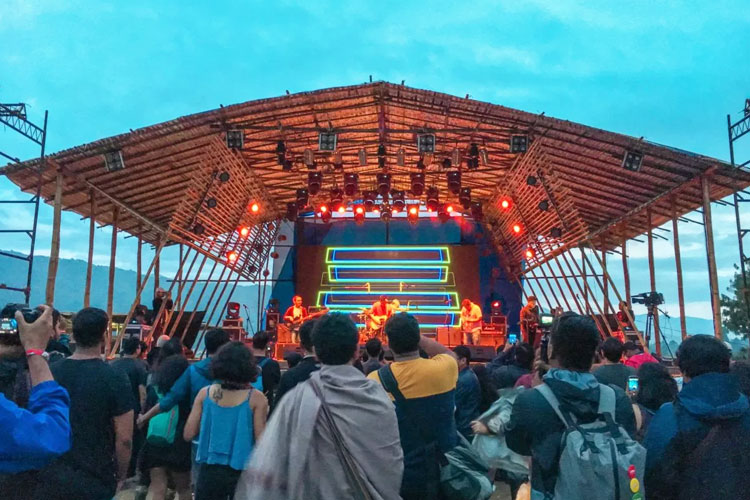 Ziro Festival of Music, the magical Woodstock of India is just around the corner starting from 26th September to 29th September 2019. With a blend of pulsating music, culture and art, this four-day outdoor fiesta showcases the talents of independent artists of India amidst the lush green Ziro valley of Arunachal Pradesh. This grand event is hosted by the Apatani Tribe well known for their hospitality and love for music. This is a spectacular musical treat that attracts music lovers from all over the country who enjoy the performances of both International and Indian artists.This is a good opportunity for indulging - eating, drinking and lots of merry making. Other than the music, there are other activities that allows one to explore the place and its natives.
Tawang Festival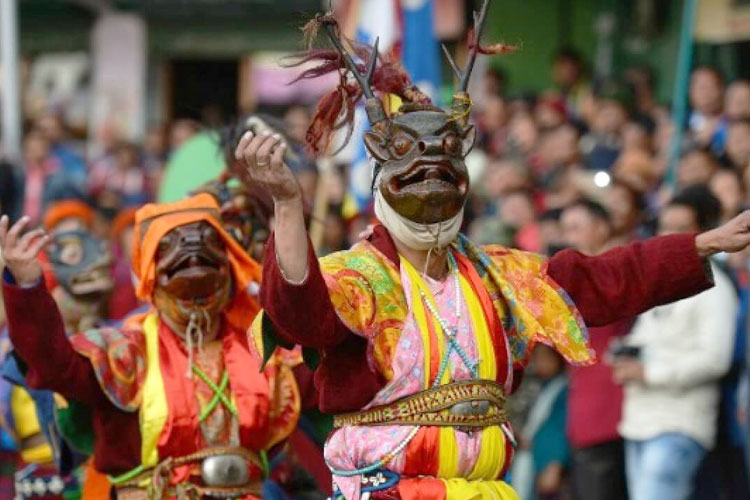 Tawang Festival is another three-day carnival that draws many travellers to Tawang from all over the world and country. Hosted by the Tourism Department of Arunachal Pradesh, this festival exhibits various traditional activities and events. With a backdrop of the magnificent Himalayan Peaks of Gudpi and Chong-Chugmi, this beautiful Hill Station of Tawang is perched at an altitude of 3500 ft. and is home to the second largest Buddhist Monastery in the world. The festival offers a glimpse of the traditional values of Buddhism, religious events, tribal dances, exhibition of tribal arts and crafts and handloom products, photographs and paintings, etc. The local market is adorned with colourful stalls. Dance of Yak and Aji-Lhamu Dance are some of the main attractions of the festival.This year the festival will be celebrated from 29th to 31st October 2019.
---
FEATURED HOTELS
Burra Bungalow, Temi Tea Garden, Sikkim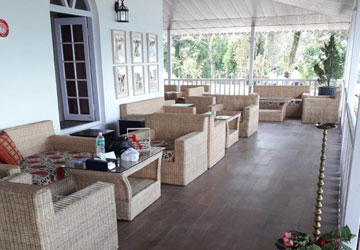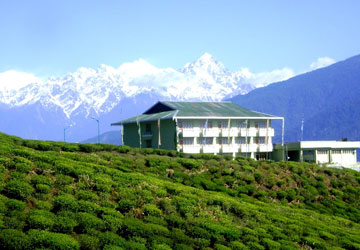 Being the only tea garden in Sikkim that produces some of the finest teas, and has amazing views,Temi Tea Garden now offers a charming Burra Bungalow Resort to the travellers seeking a comfortable stay thrown in with a bit of luxury in the midst of this fascinating landscape of South Sikkim. The bungalow dates back to the British era and still retains its colonial appearance that overlooks the beautiful panorama of the tea garden. There are a total of thirteen rooms out of which eight are single cottages.
La Nicholas resort, Shillong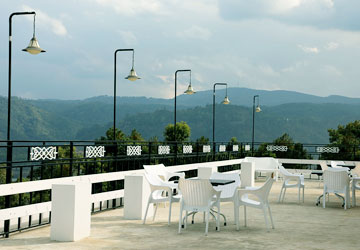 La Nicholas is a luxury resort embraced by its natural surroundings and what makes this little slice of heaven more special is the multi-utilitarian lake that not only generates electricity but is a perfect getaway for outdoor enthusiasts and nature lovers. Some of the highlights of this oasis of serenity is its sunrise over the beautiful lake and an incredible amount of marine life, some of which are yet to be discovered. There is a provision for water sports like kayaking, water skiing and water cycling for adventure lovers and for the ones who would love to just unwind and relax can enjoy the swaying pine trees, the mild lapping of water and the gentle breeze. For fishing enthusiasts, this enormous reservoir is simply a treat as it harbours fresh-water fish like carps and catfish. The resort comes with thirty-five well appointed, air-conditioned rooms which will be a perfect choice for both business and leisure travellers.
Prabhakar Homestay Guwahati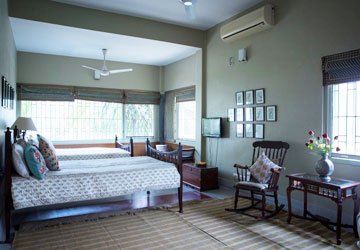 Guwahati is a unique location that connects travellers to other Northeastern states. So when one is looking for a comfortable stay with delectable home cooked meals, Prabhakar homestay is just the right place to unwind for a few days before or after the long journey through Northeast of India. Sheila and Mahesh Bora are wonderful hosts who have opened their beautifully furnished home for travellers and are always ready to share their valuable knowledge of Assam with their guests. Relish the charming garden or sit out in the balconies listening to the birds chirping in peace and quiet. This peaceful place is a comfortable bed and breakfast with four well-furnished bedrooms, free wi-fi, 24 hours laundry service, home cooked meals, etc.
---
FOOD HANGOUTS
Captivate the soul of the place through its culture, language, people and most of all 'food'. Here are some of the most hyped places where good food, drink and conversations flow.
Kolkata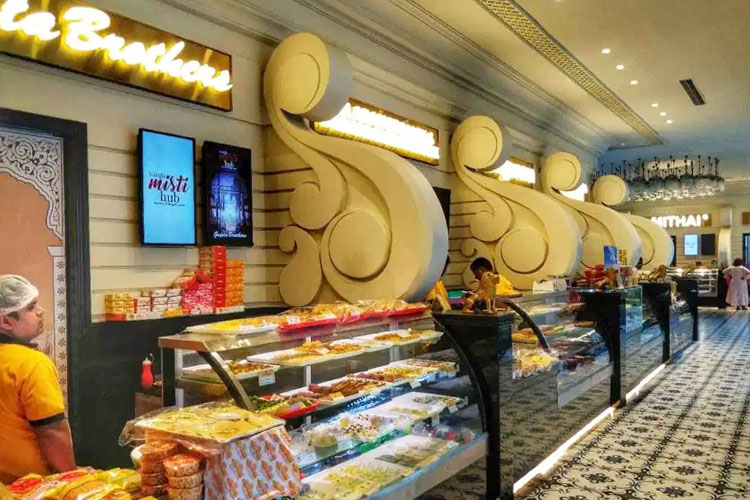 Misti Hub in Kolkata is a 'shop-in' concept that has eleven most prominent sweet shops of Kolkata that sell their mouth-watering sweetmeats under one roof. Kolkata being the world-capital for sweets, is endowed with sweet shops in every other street and locality. Misti Hub saves one from the trouble of hopping from one sweet shop to the other. One can now try out Kolkata's famous sweets under one roof. Misti Hub houses eleven sweet shops namely KC Das, Banchharam, Gupta Brothers, BalaramMullick, Radha Raman Mullick, Ganguram, Nalin Chandra & Sons, Mithai, Mishti Katha, Naba Krishna Guin and Hindusthan Sweets.
Another great food stop in Kolkata is the 6 Ballygunge Place where Bengal's finest recipes are served with extra helping and care. Housed in the bungalow of a former Rai Bahadur, soaked in the air of tradition and culture, 6 Ballygunge Place changed the gastronomic stance of the city with its curated menu. The signature Dab Chingri or the traditional Kasha Mangsho are an absolute delight for the non vegetarians and for vegetarians there are dishes like Doi Patal, Bati Chocchori, and many more.
Darjeeling
Kunga is a family-run restaurant, popular among the locals and foreign tourists. This is a cozy little restaurant in the heart of Darjeeling with warm wooden interiors that gives a welcoming atmosphere. With neatly set up tables and cushioned chairs, this place is a decent hangout that serves mostly Tibetan and Chinese cuisine.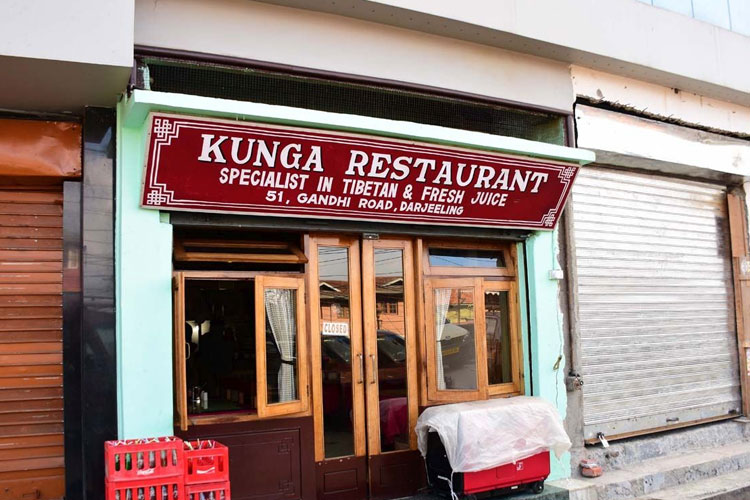 Kalimpong
Za Khang in 9th Mile is an amazing place to dine. This restaurant serves authentic Bhutanese food and is just the right spot for those looking for a good meal in Kalimpong. They have a buffet laid out with assorted Bhutanese dishes for both vegetarians and non-vegetarians. They also serve à la carte for those who would like to order separately.
Gangtok
Allen's Kitchen is a cozy little restaurant that serves a variety of food including Nepalese, Bhutanese, Tibetan, Chinese and Indian. The attendants have a courteous and friendly approach and the interiors of the place is quite interesting as well that reflects the vibrant music scene that Gangtok is known for.

Another must-visit eatery is The Taste of Tibet that serves authentic Tibetan cuisine and is one of the oldest and most popular restaurants in Gangtok. The décor is quite simple and is a comfortable place to dine in.

The delightful Baker's Café is inescapable as the aroma of fresh ground coffee beans and freshly baked muffins attract you into the warm wooden interiors of this café with an old-world charm. It offers great views of the mountains and of the busy MG Marg.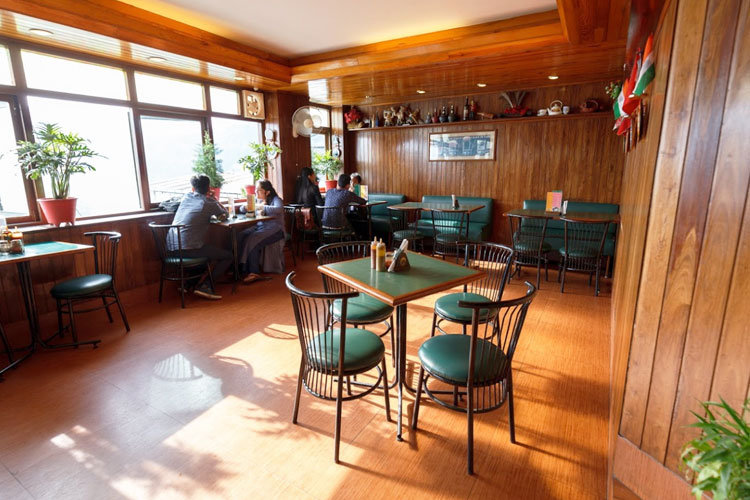 Khorikaa in Guwahati is a family restaurant that has spacious ambience with lots of tables and chairs for the customers as it is one of the busiest restaurants in town that attracts many customers both locals and tourists. This restaurant is highly recommended for any foodie who loves to try out some delicious Assamese food.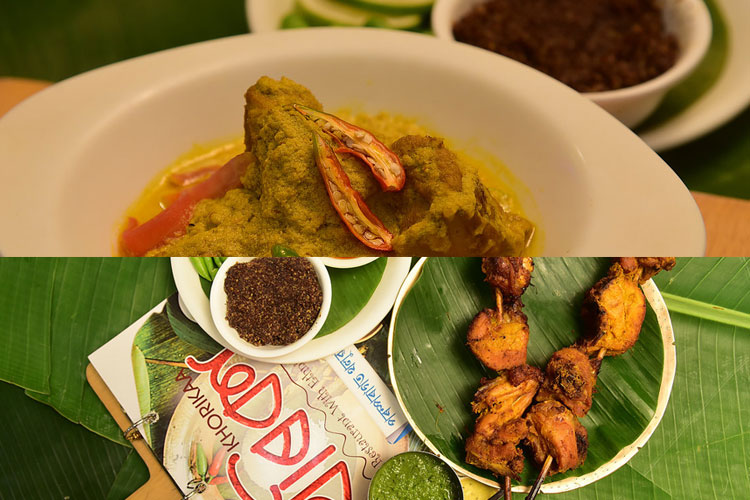 ---
Permits and Regulations
 

STATE

 

DOMESTIC

 

INBOUND

SIKKIM

To enter Sikkim no permits are required. For visit to Changu Lake, Baba Mandir, Lachen and Lachung permits are required. Documents to be carried for Tsomgo Lake/ Lachen/Lachung are 2 copies of passport size photographs, original photo ID proof with photo copy (identity card -voter's ID/ Passport / Driving License) for processing the permit). Aadhar card is not acceptable for the permits.

For entering Sikkim, a normal Inner Line permit is required.

This permit can be obtained on any one of the following procedures.

At the time of applying for the Indian Visas itself, the clients need to mention that they will visit Sikkim and accordingly a 15 days inner line permit is stamped on the visa
The permit can be applied from Sikkim House in New Delhi by presenting the passport and valid Indian Visa.
On arrival in Darjeeling we need to produce the original passport with valid Indian Visa at the district Magistrates office and a 15 days inner line permit can be granted. It takes half day.
While entering Sikkim the permits can be issued on the spot at Rongpoo Check post (while going to Gangtok) or Melli Check Post (while going to Pelling) It takes 20 minutes to 1 hour depending on group size. A serial numbered form at the check post needs to be filled and submitted along with photocopies of passport and Indian visa and 02 passport size photographs.

The following can be granted Inner Line permits to visit Sikkim ONLY by the Ministry of External Affairs, New Delhi or the Indian High Commissions abroad.

Foreigners travelling with Diplomat passport like Red Cross etc.
Citizens from Republic of China, Peoples Republic of China, Pakistan, Myanmar, Taiwan, Nigeria, Hongkong and Macau.

ARUNACHAL PRADESH

For Indian Tourist travelling to Arunachal Pradesh is required Inner Land permit which is issued for a period of 30 days. Documents needed are Aadhar card, Driving License, Passport, Ration card, Voter's ID card

Foreign tourists visiting Arunachal Pradesh needs Protected Area Permit (PAP)/ Restricted Area Permit (RAP). The stay is permitted for a period of 30 days. Single traveller is not allowed to travel in Itanagar, Aalo, Pasighat, Daporijo. Few other areas are restricted in the state due to security reasons. Documents needed are valid duly filled Permit form, Passport, valid Indian VISA and International flight tickets (both arrival/departure)

NAGALAND

For Indian Tourist travelling to Nagaland, Inner Land permit is required which is issued for a period of 30 days. Documents needed are Aadhar card, Driving License, Passport, Ration card, Voter's ID

Photocopy of Passport and Indian VISA needs to be submitted in all check points while travelling in the state.

All foreign nationals have to register themselves at the office of Superintendent of Police (CID/SB) Nagaland who is the designated Foreigners Registration Officer (FRO) of the State within 24 hours of arrival. However, in the following cases, the permit required before entering the state with prior approval of the Ministry of Home Affairs would be necessary for the foreign tourist

If the tourist is a citizen of Afghanistan, China or Pakistan
Citizens of Myanmar visiting Nagaland beyond 16 Kms from the Indo Myanmar border

MANIPUR

NA

Foreigners visiting Manipur need to register at the CID office in Imphal. If spending overnight in Imphal, hotels will assist with the formalities for registration.

Foreigners visiting Manipur by Road from Nagaland may register at the Mao Gate check post for the immigration check. Foreigners visiting Manipur by Air need to register at the Immigration Counter located at the Bir Tikendrajit International Airport, Imphal

MIZORAM

For Indian Tourist travelling to Mizoram, Inner Land permit is required which is issued for a period of 30 days. Documents needed are Aadhar card, Driving License, Passport, Ration card, Voter's ID

Photocopy of Passport and Indian VISA need to be submitted in all check points while travelling in the state.

All foreign nationals have to register themselves at the office of Superintendent of Police (CID/SB) Mizoram who is the designated Foreigners Registration Officer (FRO) of the State within 24 hours of arrival. Citizens of Afghanistan, China and Pakistan and foreign nationals having origin in these countries would continue to require prior approval of the Ministry of Home Affairs before entering the state.
---